Waste
There really shouldn't be any such thing as waste
At Van Geloven, we are continually investigating new options for reducing, processing or recycling waste during the production process in a way that will have the least impact on the environment, or that could even result in new and sustainable energy or materials. This approach fits in with the Waste Hierarchy (known in Dutch as De Ladder van Lansink), which is a standard used in waste management. 
790,000 litres of biodiesel
Reducing waste on the production line is a point for attention in the 4WIN programme that we discuss every day with our staff on the production line. Aside from preventive action, Van Geloven mainly does a lot of recycling. Clean foil residue is made into new plastic, cardboard and paper are recycled into new paper, and old iron is forged into new iron. The increase in the amounts of production waste in cardboard, foil and metal in 2015 is due to the way our suppliers deliver the raw materials for our products. We are very proud of the processed oil for deep-frying that we converted into 790,000 litres of biodiesel in 2016. The increase by 90,000 litres of biodiesel that could be processed from used deep-frying oil in the 2015-2016 period is the result of the increased volume of oven products (which are pre-fried in deep-frying oil) over this period. Van Geloven collaborates with the waste collector Van Gansewinkel for waste treatment.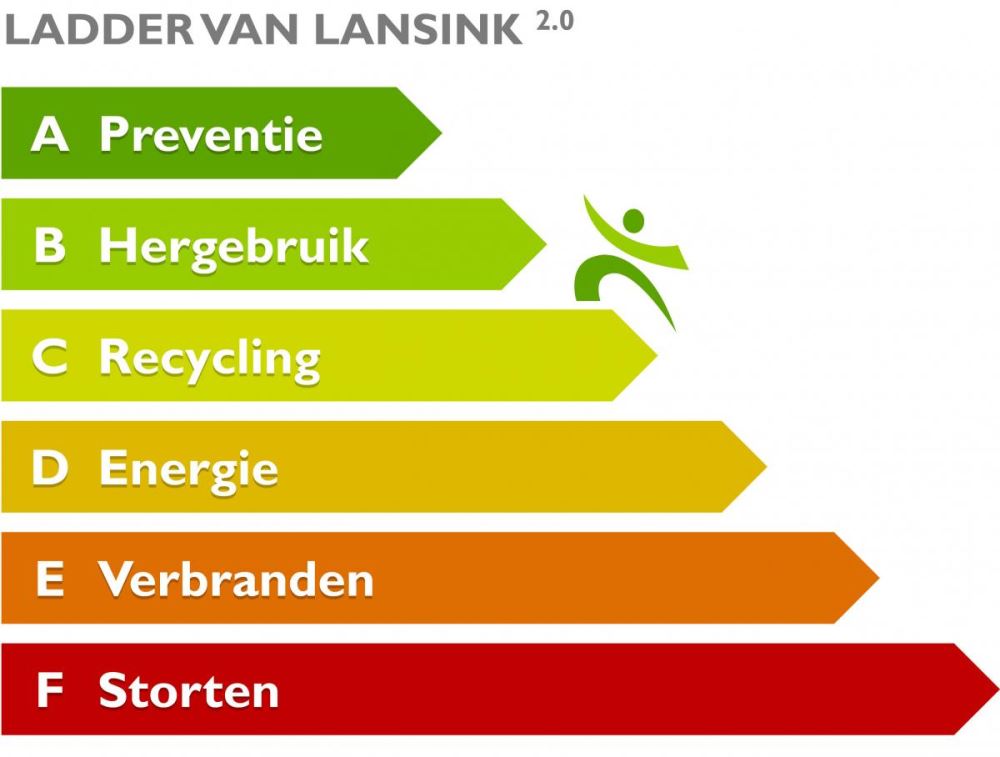 Separating waste sometimes has a greater environmental impact due to transport
Hazardous household waste (HHW) is processed in accordance with the law at specialised companies, and the residual waste is taken to an incinerator which converts it into new energy. Most of this residual waste consists of contaminated plastic from meat packaging. We are also seeking a better solution for this kind of waste, but research carried out by the Netherlands Enterprise Agency showed that this waste cannot be recycled at present. We have installed a compactor container for plastic waste in Tilburg, making less waste transport necessary. Other waste originates from waste-paper baskets at offices, canteens and production rooms and consists of e.g. hairnets, vinyl and nitrile gloves, paper tissues and paper towels. However, the relevant quantities are so small that separating this waste would have a greater impact on the environment due to the transport involved.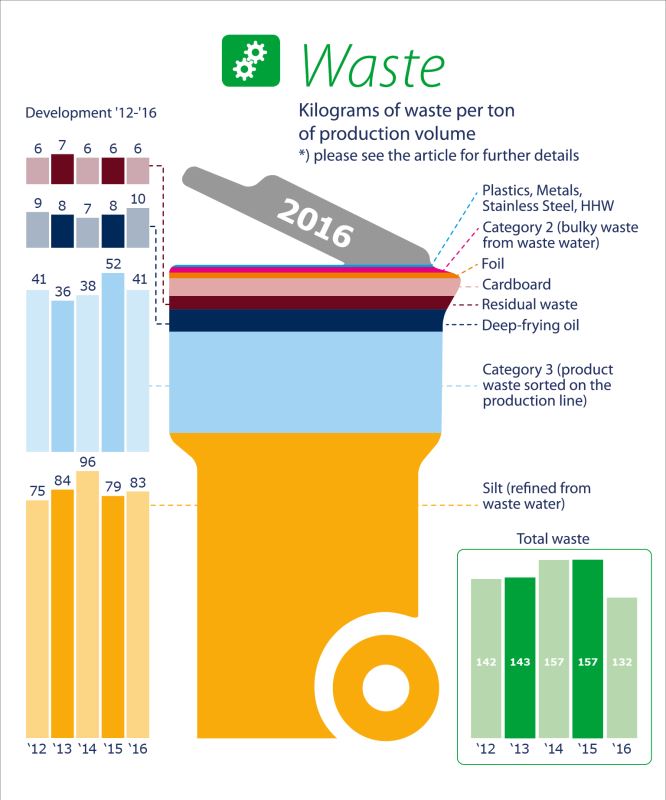 More Category 3 waste due to introduction of fried noodles snacks range
All raw materials used on Van Geloven's production lines that fall on the floor create Category 2 and Category 3 waste (this division is specified in European regulation (EC) no. 1069/2009). The sludge generated during part of the water purification process is classified as Category 2. This sludge is fermented, releasing gases that are upgraded to natural gas quality. The amount of this sludge waste is stable.In addition, part of the Category 3 waste - raw materials, especially meat, which can no longer be used for commercial purposes - is fermented and part is used as fodder for animals bred for fur. In 2015, this type of waste was considerably higher in Maastricht than at our other locations. This was related to getting our new production process for fried noodle snacks under control. The total waste production at Van Geloven fell in 2016 relative to 2015.